Graceful Atheist Podcast Joins Atheists United Studios

https://www.atheistsunited.org/news/graceful-atheist-podcast-joins-atheists-united-studios
A secular humanist podcast about Secular Grace after deconstruction and deconversion.
My name is David, and I am trying to be the Graceful Atheist. Join me and be graceful human beings.
The podcast takes an honest look at stories of faith transition from a life-altering faith, to doubt and deconstruction, to deconversion, and finally, to a thriving graceful life post-deconversion.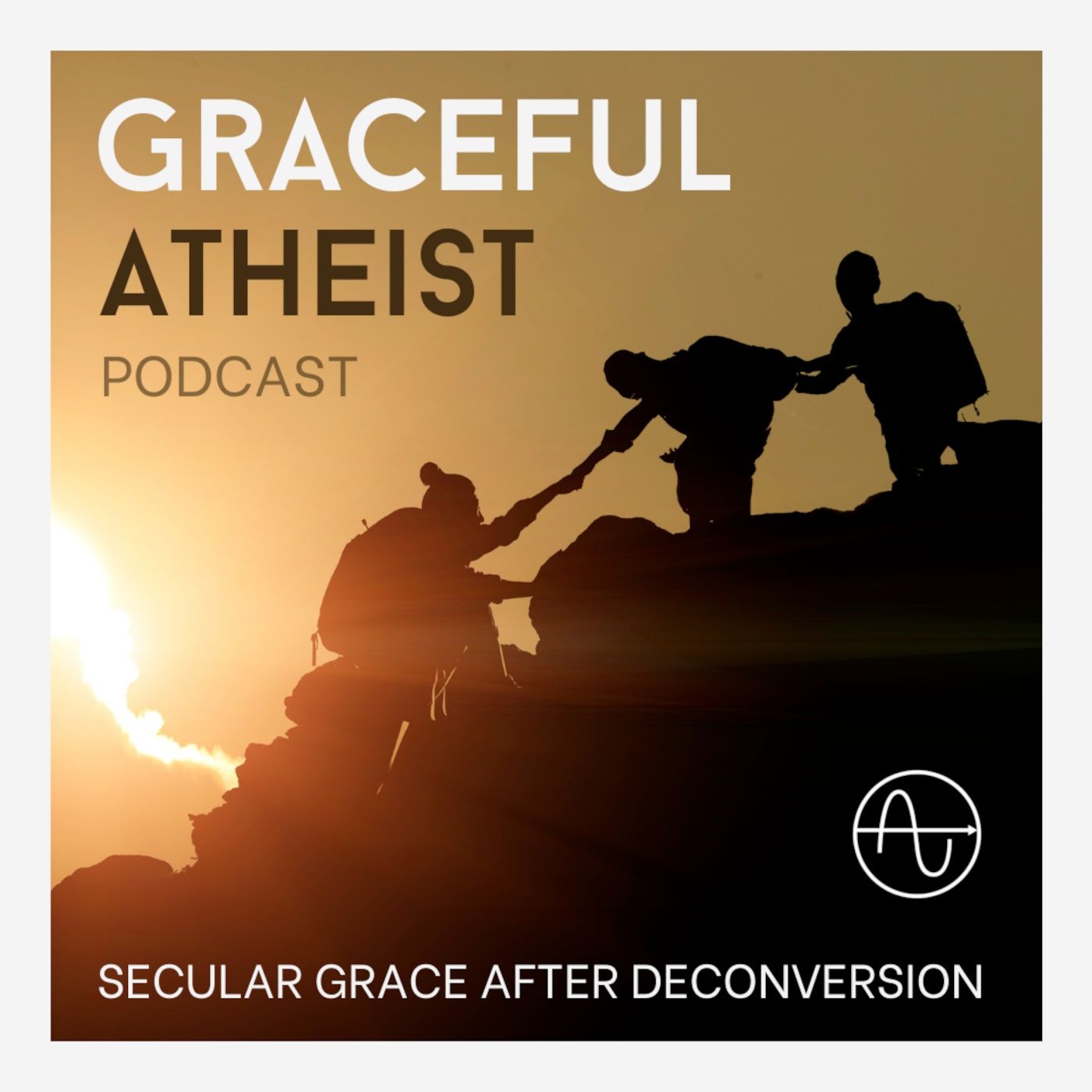 This week's guest is Shifra Lowen. Shifra grew up in a small, well-controlled Hasidic community in Canada. As a girl, Shifra wanted to do everything according to the rules of their village. At the same, she desperately wanted forbidden things, like a kitten or a pet bird.At 17, her marriage was arranged to someone she knew and even liked, and Shifra was on Cloud 9 for a while, though suspicious of her own happiness. Then her husband did something unthinkable."…Imagine my shock and fear when I found out that my husband visited a library."Visiting a Jewish library was only the beginning of Shifra's world coming apart, but slowly she would realize it was all for good—for the good of their whole family.Years later, after much learning and growing, Shifra and her family are thriving, living in accordance with their own values and not someone else's rules.LinksInstagramhttps://www.instagram.com/yiddishe_/YouTubehttps://www.youtube.com/@shifralowenPatreonhttp://www.patreon.com/ClaraWassersteinInteractFor quotes, recommendations, transcripts and more see the full episode show noteshttps://gracefulatheist.com/2023/05/27/shifra-out-of-hasidic-orthodoxy/Join the Deconversion Anonymous Facebook grouphttps://www.facebook.com/groups/deconversionSupport the podcast on Patreonhttps://www.patreon.com/gracefulatheistSecular Gracehttps://gracefulatheist.com/2016/10/21/secular-grace/Deconversionhttps://gracefulatheist.com/2017/12/03/deconversion-how-to/Deconstructionhttps://gracefulatheist.com/2017/12/03/deconversion-how-to/#deconstruction/Attribution"Waves" track written and produced by Makaih Beatshttps://makaihbeats.net/
Episode list and Podcast show notes
---
Premise of the Podcast
Let's be honest, I am not a terribly good writer. And I have a face for radio. I am also deeply introverted so I am best one on one. What I can do is talk. I can be vulnerable and build trust to encourage vulnerability in others. So podcasting may just be my optimal medium.
I have loved podcasts since they hit the scene in the early 2000's. There is an intimacy about podcasts that other media just don't have. I also love the long form nature of the medium. It encourages nuance and actual dialogue.
Just another atheist podcast?
A natural question to ask is, "who needs another atheist podcast?" That is a valid question and I hope to dispel any reservations here. I am a humanist. And I believe that human connection is the most profound experience one can have. It is this human connection that will be the focus of the podcast.
There are three main themes that I want to explore: Deconversion, Secular Grace and having an Honesty Contest.
Deconversion
The first and primary theme of the podcast will be deconversion.
Deconversion is about those of us who have had faith, a true life changing belief, but who subsequently realized that we no longer believed.
Deconversion is about those of us who choose to honor our consciences over the expediency of staying within our former faith tradition.
Deconversion is about intellectual honesty and finally letting go of the burden of apologetics for our religious belief.
The podcast will explore the full range of the human experience when one deconverts. The anger, the loneliness and the joyous freedom found on the other side. The goal of the podcast is to remind myself and others who are doubting, deconstructing, deconverting or who have been faith free for years that we are not alone.
One of the greatest difficulties about deconversion is that just at the moment we have lost what we believed was our best friend, the point at which we need support and love the most, the point at which we are most vulnerable, at that same time we experience the loss of community, potentially even family and friends. The combination can be devastating. It is a testament to the human spirit that any of us survive this transition.
Many episodes will be "Deconversion Anonymous" episodes.
If you are anything like me, the process of deconversion feels lonely and one of the first things you want to do is tell your story. But who are you going to tell? It is possible that your friends and family are still believers and they will be unlikely to appreciate your story. Even the non-believers in your life may be nonplussed if they have never gone through a deconversion experience.
Telling your story is a cathartic part of the deconversion process. If you want to tell your story for the podcast, you can remain anonymous, use a pseudonym, or if you are out as a non-believer, you can tell the world.
We tend not to allow people to be where they are at. We want them in discrete buckets: Theist or atheist but nothing in between. I want to explore the spectrum of belief to non-belief and hear the diversity of stories from people who represent every point on the graph.
Whether you are a doubting believer, deconstructing, already in the deconversion process or looking at it in the rear view mirror, if you want to tell your story contact me and we will get you on the podcast. If you just need someone to tell your story to but don't want it published still feel free to contact me.
Secular Grace
The second major theme is Secular Grace.
Secular Grace is a proactive acceptance, love and caring for our fellow human beings person to person. Think of it as humanism plus. Where humanism has tended to focus on the rational for ethics and human rights, Secular Grace focuses on human connection, belonging, awe and love.
Secular Grace asserts human worth, dignity and rights and attempts to ethically follow all the implications from these assertions.
Secular Grace is a graceful life philosophy on how to live life well and thrive as a human being in all of its diverse expressions.
Secular Grace recognizes the very human need to experience connection, belonging, awe, wonder and most of all love.
Secular Grace is what to do now post-deconversion.
Rather than being defined by what I don't believe. I want to be defined by what I do believe.
I believe in people.
I will be doing a full episode on Secular Grace so for now I will leave with a quote from Joss Whedon which I feel expresses Secular Grace at its best:
The enemy of humanism is not faith.

The enemy of humanism is hate, is fear, is ignorance, is the darker part of man that is in every humanist, every person in the world.

That is what we have to fight.

Faith is something we have to embrace.

Faith in god means believing absolutely in something with no proof whatsoever.

Faith in humanity means believing absolutely in something with a huge amount of proof to the contrary.

We are the true believers.

Joss Whedon
Honesty Contest
The final theme is more of an ethos or a goal for the podcast and that is brutal honesty.
Often when you hear an atheist say they are only telling the truth, the truth such as it is, is being used a cudgel to beat their chosen target into submission. It is a game played to win. This kind of truth telling can be aggressive, offensive and worst of all counter productive to the stated goals of said atheist: changing minds.
When I say brutal honesty will be the ethos of the podcast I mean something quite different. I mean brutal self honesty. My goal is to be vulnerable and to come down from the intellectual high towers that we atheists often hide in.
I am interested in and I want to explore valid criticisms of atheism and humanism. Rather than being defensive I want to acknowledge what I don't know and identify subjects that may require further thought on my part.
I am not a philosopher, nor do I pretend to be one. If it is all about intellectual contests, then I concede. I am bored with debates and attacks. My critiques of apologetics are from the perspective of an honest seeker. It is my opinion, that it is not that believers take their faith too seriously, it is that they do not take it seriously enough. So let's take the premise of god seriously. What are the implications? What would we expect if that were true?
I do not believe that intellectual arguments lead people to faith and even very few lead people away from faith. What does allow people to listen to their doubts and in some cases break free from unfounded faith? Brutal honesty.
In light of all this, one of the plans I am most excited about for the podcast is a role reversal interview called "A Believer Interviews the Graceful Atheist."
In these episodes, I will have friends of mine who are believers who I trust interview me. I'll allow them to ask the hard questions and rather than try to argue with them I'll see if I can get them to understand why I no longer believe. If, and only if, they are interested they can come back for a second episode where I will ask them some tough questions about their faith.
Criticisms from both the religious and secular perspectives are welcome. My requirement for guests with criticisms for me is that they meet me on the same level of self honesty. Rather than an intellectual contest let's have an honesty contest.
As a sign of good faith I challenge you, the listener, to keep me accountable to this goal. If you feel I am not being honest or that I am being defensive, call me out. I can take it. I'll tell this to the people I interview and the people who interview me.
Join me
Those are the main themes and goals for the podcast. I hope you will come with me on this journey. Look for the podcast wherever you get your favorite podcasts.
Support the podcast
Patreon https://www.patreon.com/gracefulatheist
Paypal: paypal.me/gracefulatheist
The Graceful Atheist Podcast is available wherever you get your podcasts
Recent Episodes
This week's guest is Shifra Lowen. Shifra grew up in a small, well-controlled Hasidic community in Canada. As a girl, Shifra wanted to do everything according to the rules of their village. At the same, she desperately wanted forbidden things, like a kitten or a pet bird.
Read more